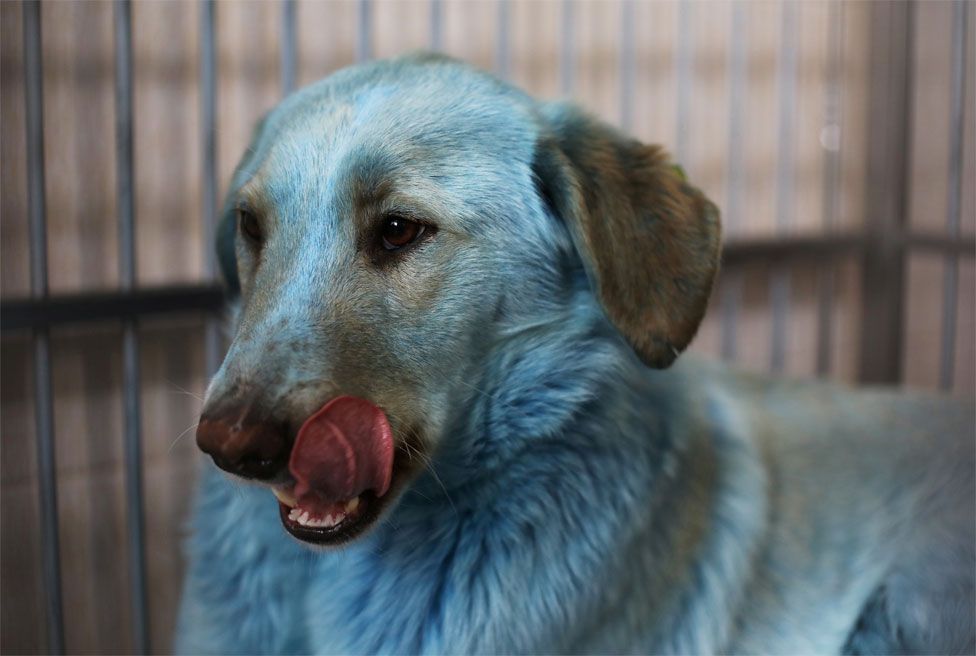 A dog with blue fur sits in a cage
ANASTASIA MAKARYCHEVA / REUTERS
A dog with blue fur in a cage awaits attention at a veterinary hospital in Nizhny Novgorod, Russia. A pack of stray dogs with blue fur was found earlier this month near an abandoned chemical plant in the city of Dzerzhinsk.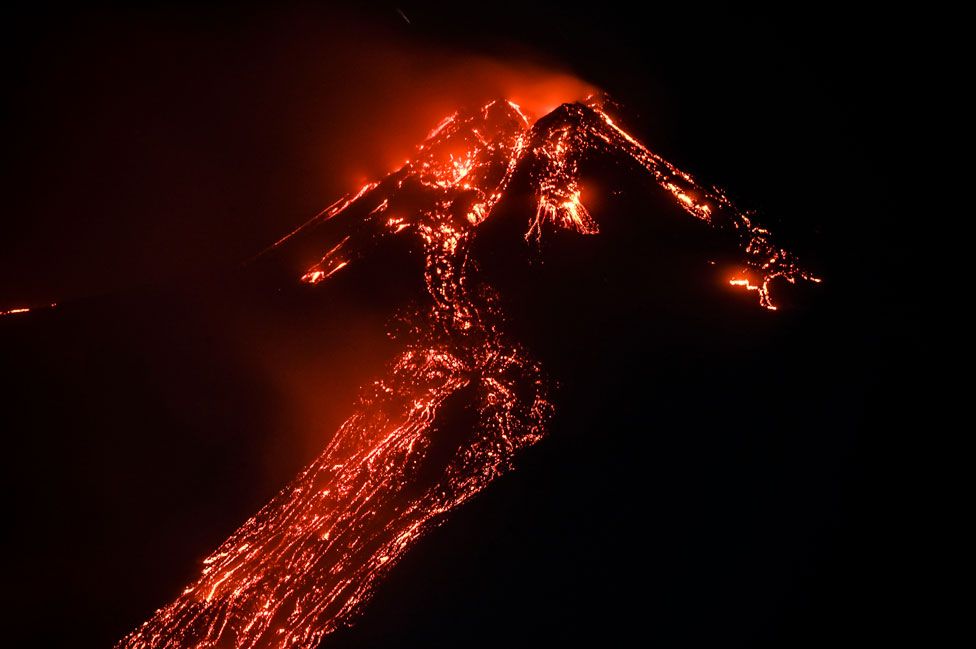 Lava flows down the side of Mount Etna at night
FABRIZIO VILLA / GETTY IMAGES
Lava flows down the side of Mount Etna, Europe's most active volcano. It erupted on Tuesday and again in the early hours of Thursday, sending hot lava and ash clouds into the Sicilian sky. Nearby towns are being monitored by local authorities.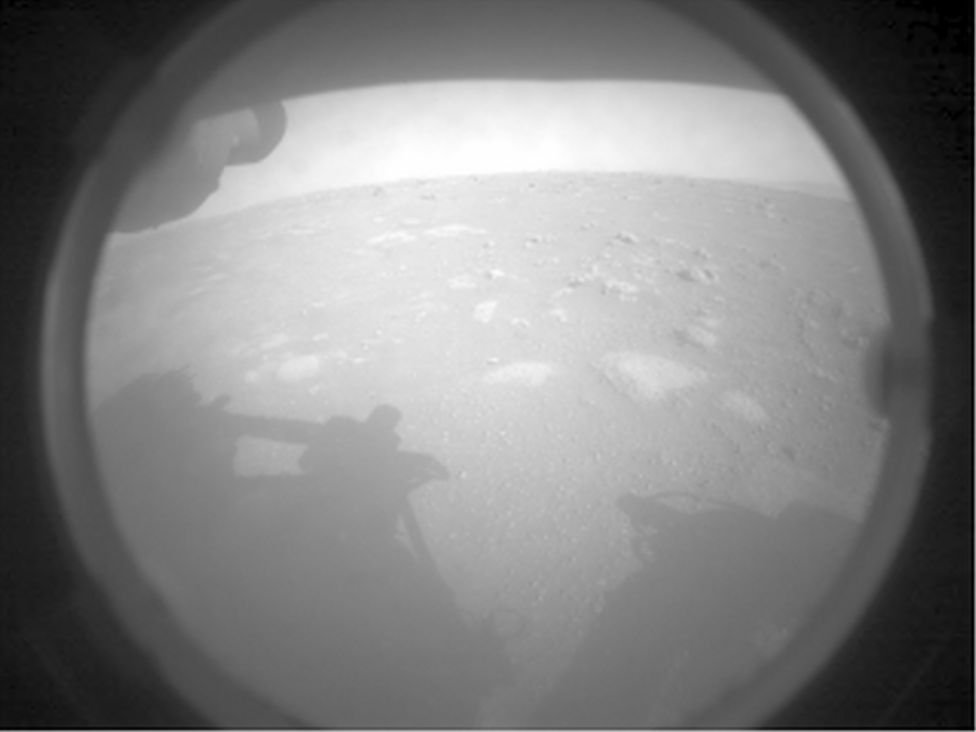 A view of Jezero Crater
NASA
A video still from footage by Nasa's Perseverance Mars rover shows the surface of the planet after touchdown in Jezero Crater. The six-wheeled vehicle will spend at least two years drilling into rocks, looking for evidence of past life. The crater is thought to have held a giant lake billions of years ago.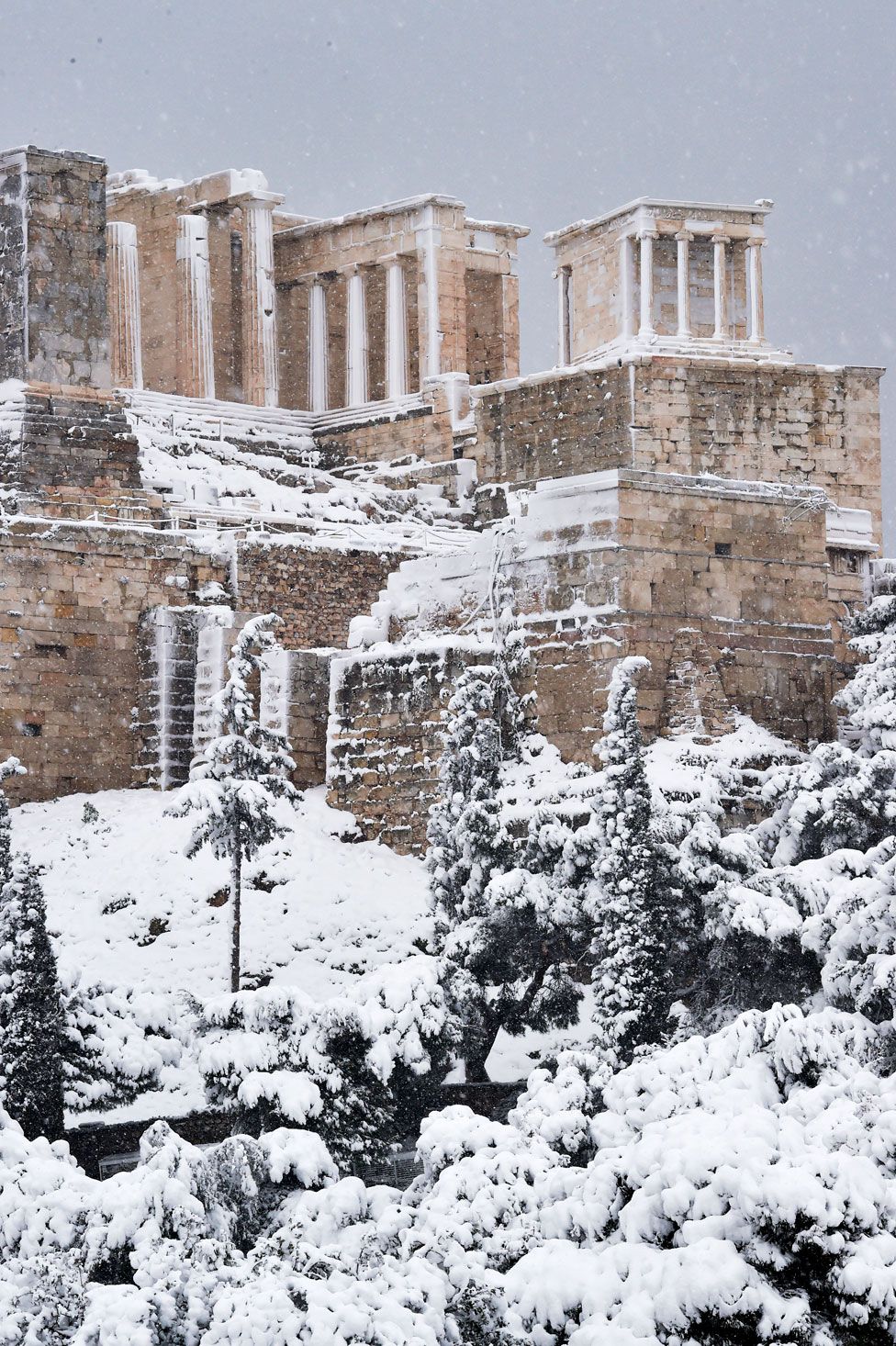 Snow falls on ancient ruins in Athens
MILOS BICANSKI / GETTY IMAGES
Snow falls on the Temple of Athena Nike on the Acropolis in Athens. Temperatures as low as -19C (-2.2F) have been recorded in the north-western city of Florina. Prime Minister Kyriakos Mitsotakis has urged people to stay at home.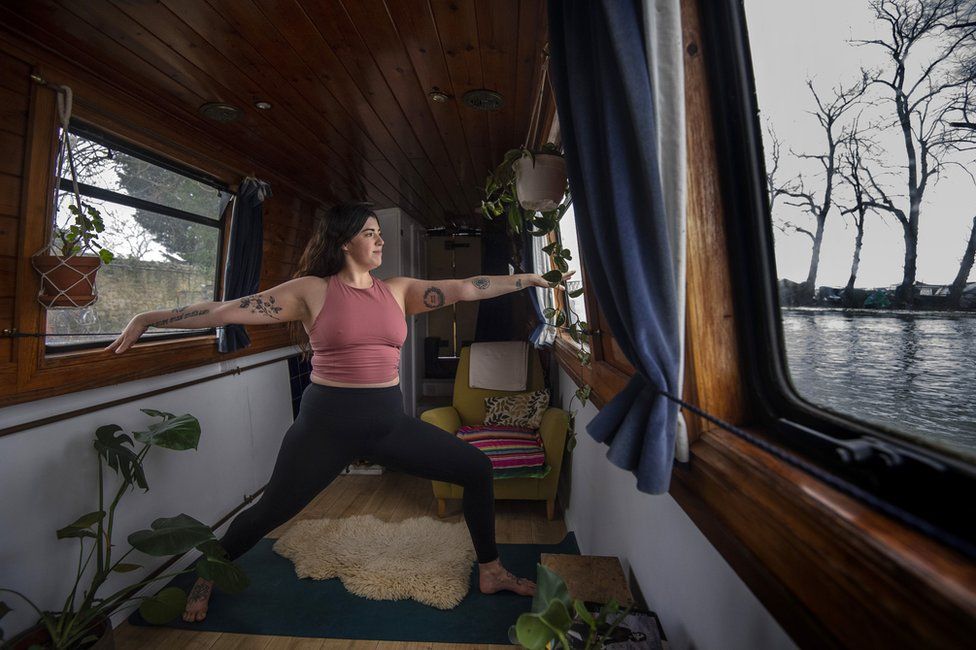 A woman holds a yoga pose in her narrowboat
VICTORIA JONES / PA MEDIA
Yoga teacher Harriet McAtee conducts a yoga class on her 6ft (1.8m)-wide narrowboat in Oxford. The coronavirus pandemic has forced Harriet to hold her classes via Zoom video calls, reaching students as far away as New Zealand.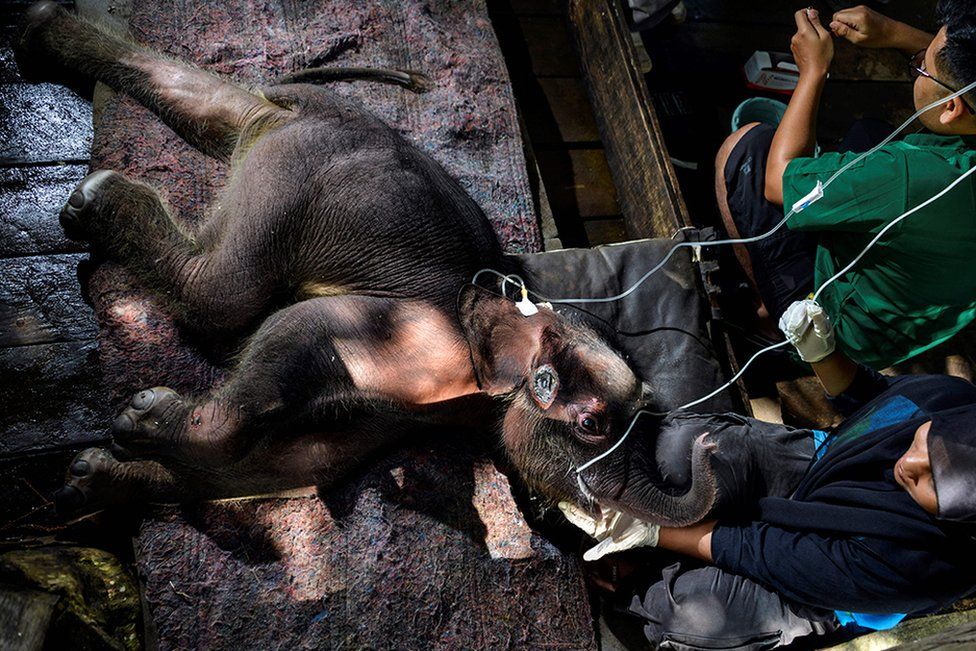 A Sumatran elephant calf receives medical attention at the Saree elephant conservation centre in Saree, Indonesia.
CHAIDEER MAHYUDDIN/AFP
An elephant calf receives medical attention at the Saree elephant conservation centre in Sumatra's Aceh province, after being rescued from mud in Pidie district.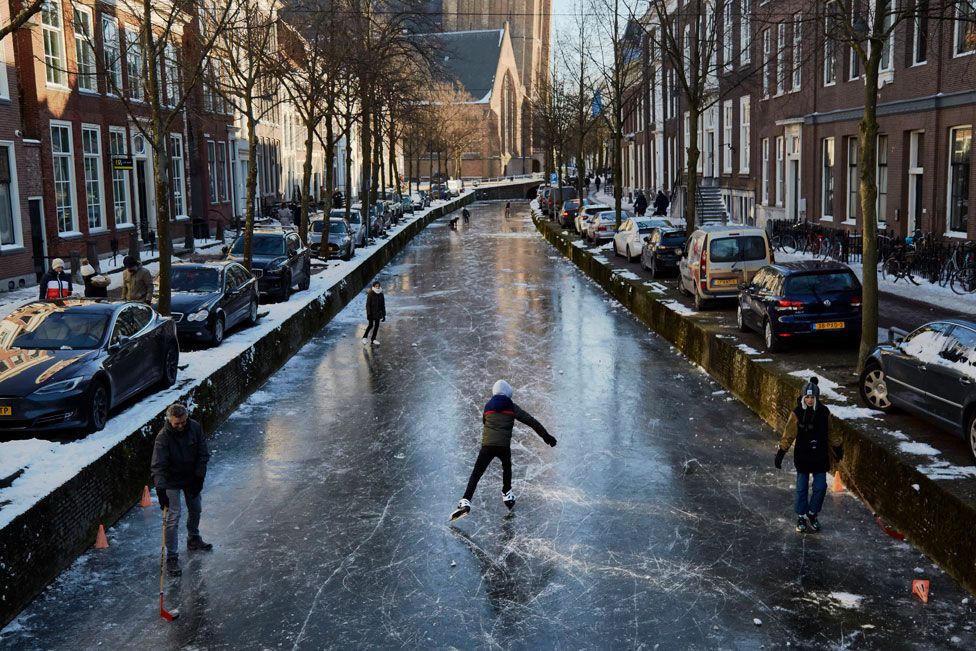 People skate on a frozen canal in a residential area of the Netherlands
PIERRE CROM / GETTY IMAGES
Ice-skating fever is gripping the Netherlands after days of sub-zero temperatures froze lakes, ponds and canals across the country, including this area of Delft. Prime Minister Mark Rutte said: "Take advantage of the good weather and the ice - but do it under Covid-19 measures."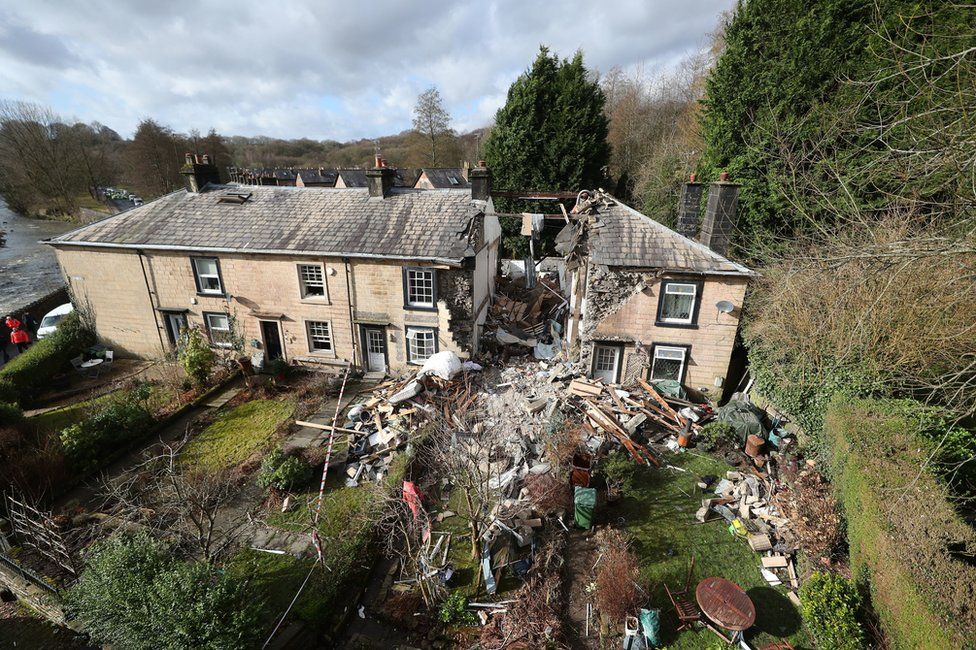 An aerial view of a collapsed terrace house in Bury, Greater Manchester
PETER BYRNE / PA MEDIA
The body of a 61-year-old woman was found after a house collapsed in Ramsbottom, Greater Manchester, on Wednesday evening. Fire investigators said it "would not be appropriate to speculate on a probable cause" while the investigation continues.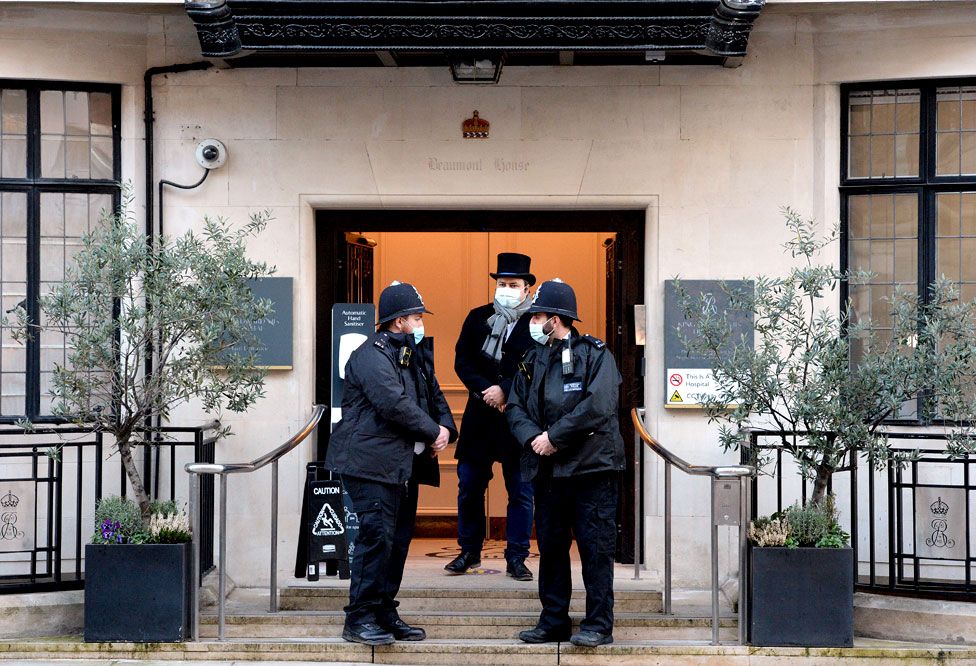 Police officers stand outside an entrance to the King Edward VII Hospital in London
EAMONN M. MCCORMACK / GETTY IMAGES
Police officers stand outside the King Edward VII hospital in London, where the Duke of Edinburgh is currently receiving treatment. Prince Philip, 99, was said to be in "good spirits" after being admitted on Tuesday, feeling unwell. Buckingham Palace says his stay is not related to coronavirus and is expected to last for a few days.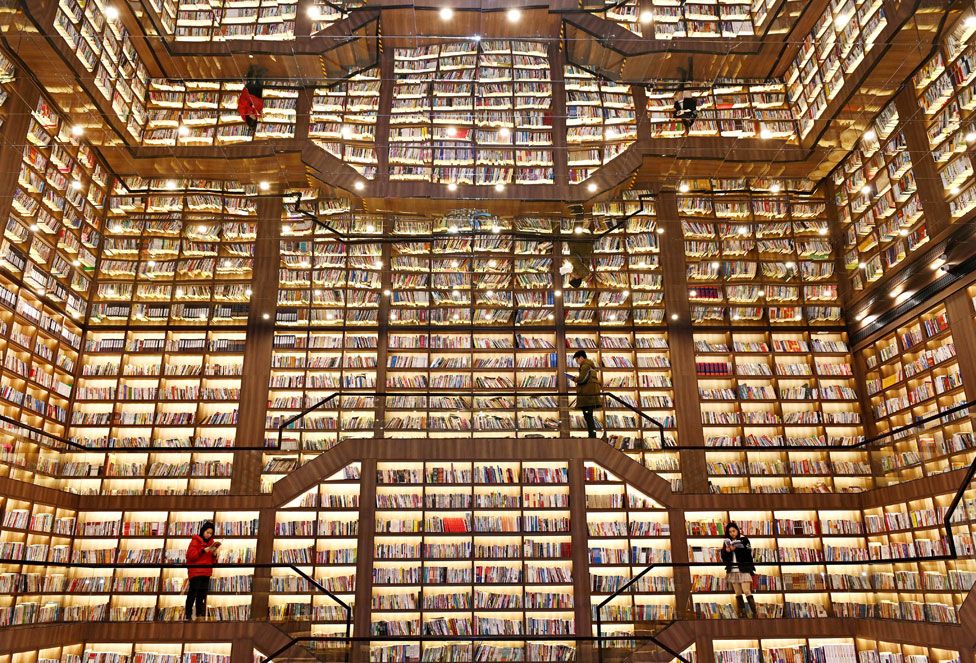 People stand and read books in a giant bookstore
TENG ZHIZHONG / GETTY IMAGES
A vast array of books is on display at Songpo bookstore during the Spring Festival holiday in Shaoyang, Hunan Province, China.